HOLD THE PHONE! THE GMC SYCLONE IS MAKING A RETURN!
There is always something special that capture our eyes and hearts at the very first moment we see them. In this case, these somethings are some vehicles, which offer the ultimate package.
On the other hand, some other time we just get a lust for things we can not have. Out there seem to be a lot of models that offer the 'whole package', but then they just disappear and leave us in need of them.
All of this might be a little bit of wanting what we can't have.
However, engineers do not stop their work, and it is just awesome to see how GMC Syclone has evolved. This time the truck seems to offer something that it is so ahead of our time.
Ever since the year of 1991, we thought that the model was a goner aside from the few examples produced in 1992 before going defunct. While the Syclone still is popular among enthusiasts, GMC hasn't uttered a peep of bringing it back. This is where Specialty Vehicle Engineering stepped in and decided that they'd take a crack at it.
These are the same folks that bring us everything Yenko. We have to admit that a project from someone like SVE that's aiming at a new Syclone has our blood pumping. So, what is this thing going to be all about?
Just like the original, the truck will feature a forced induction V6. Instead of being turbocharged, though, we'll see a 455 hp 3.6L supercharged unit. The company hasn't specified what's going to happen with the engine, so we assume they're just strapping a blower to the stock unit.
Furthermore, the truck will be an incredibly limited run. Via SVE's website, "Only 100 Limited Edition, outrageously fast, 2019 SYCLONE Sport Trucks will be built, based on the 2019 GMC Canyon 2WD and 4WD extended cab truck."
The package will also upgrade the brakes and suspension. SVE says that the truck will sit 2″ lower in the front and 5″ lower in the rear. This gives it a much more aggressive stance.
For those looking for the cherry on the sundae, some of the attention to detail really caps this thing off. SVE tells us that " A Stainless Steel Cat-Back Dual Exit Exhaust System increases performance while providing a true sports car-like sound.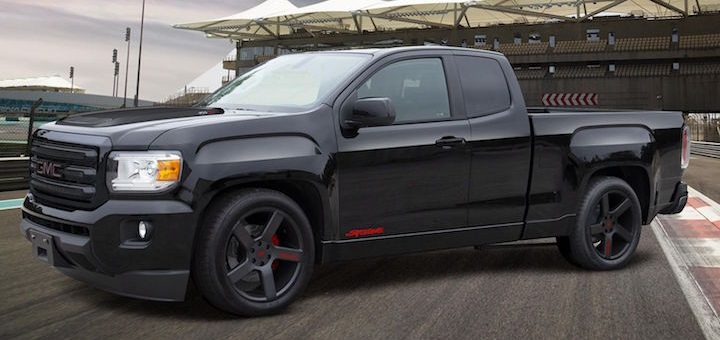 Additional performance upgrades include 20" x 9" front and rear 5 spoke alloy wheels w/SYCLONE graphics on one spoke, and Y-rated front and rear performance tires." Throughout the truck, we can expect all sorts of other Syclone branding and subtle touches to really make it pop.
The asking price for the package is $39,995 on top of the cost of the 2019 GMC Canyon donor truck. The Canyon tends to run in the mid $20k price range.
What are your thoughts ?